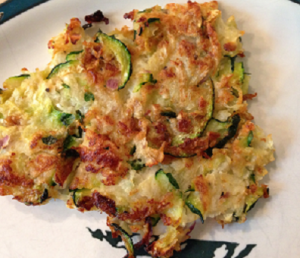 Are you in a recipe rut? Are you filled to your ears in summer squash and zucchini? Well, a latke is the perfect recipe and puts a unique twist on cooking with zucchini or yellow squash.
You might be asking yourself, what in the world is a latke??!! Well, a latke is basically a fancy word for a pancake. Typically, a latke has potato in it, but since potatoes are not allowed on plan, I substituted turnips instead. Turnips are great substitution for potatoes; you can even make oven baked turnip fries, but that's another recipe for another time.
This is also a husband approved recipe. (recipe for the win!)
These Turnip/Zucchini latkes are savory and add something a little different to your typical veggie menu. You will need:
1 large zucchini
1 medium Turnip
2 tsp Garlic Powder
1/4 cup of egg whites
1 tsp olive oil
Salt and Pepper to taste
Preheat your oven to 425 and line a baking sheet with parchment paper.
This makes about 2 cups measured before cooking, so double the recipe if you need more. First, grate the zucchini and turnip. Then use a dish towel or paper towel and squeeze out all the extra water. Your mixture should look something like this before cooking: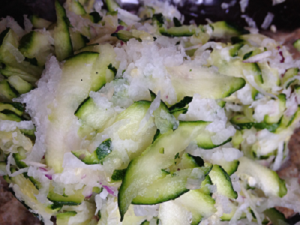 Place your turnip/zucchini mixture into a large bowl and mix in all the ingredients. Using your hands make small pancakes out of the mixture and flatten on parchment paper. Bake in the oven until golden brown, then flip the latkes and continue to bake until both sides are golden brown, or desired crispness is achieved.
For more great recipes click HERE