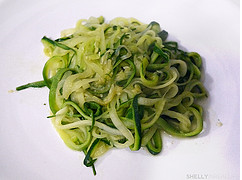 This is a raw zucchini noodle salad and it is delicious! I made it for the first time over 4th of July weekend. My aunt throws a huge firework show every year, there were about 30 people there, and by the end of the evening, my zucchini salad had disappeared; before the chips that were there! The best kitchen tool to use is called a spiralizer and it can make all sorts of veggies into  different types of noodles. If you do not have one, you can also use a julienne peeler.
        4 large zucchini
        1 tsp salt
        ½  cup mint leaves
        1 ½  cup basil
        2 garlic cloves
        2 tbs lemon juice
        1/4 cup olive oil
Spiralize the zucchini and set aside.  Zucchini has high water content so if you want to drain some water out, place zucchini in a colander and sprinkle with salt and let it sit for 30 minutes; this is optional.
Place all ingredients except olive oil in a food processor and blend. Once everything is blended, slowly add the olive. You can add extra salt or pepper to taste and mix with the zucchini.
This makes for a great light summer salad and you could even mix in some cherry tomatoes!
For more great recipes check out our cookbook HERE