Last night we (the Stegers and Barbers) … honored  Memorial Day a week early.
We took our small group of young married couples that we mentor to the Little Rock National Cemetery.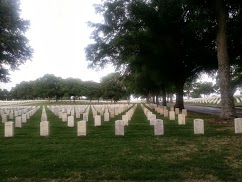 Our goal was to remind these young married couples that Memorial Day is a day to remember and give honor to military personnel who died in the service of their country…for our freedoms;  particularly those who died in battle or as a result of wounds sustained in battle. While those who died are also remembered on Veterans Day, Veterans Day is the day set aside to thank and honor ALL those who served honorably in the military – in wartime or peacetime.
We prayed for the families who lost their sons, fathers, & husbands for our freedom and placed American flags on some of the graves.
If you have not visited the Little Rock National Cemetery –  It is very interesting and humbling  and I would highly suggest you take your family to visit.  It is a beautiful place.
Next we sat on the Capital steps to pray for those who govern our cities in Arkansas and state.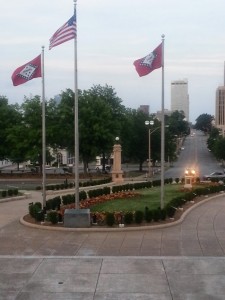 Sitting on the steps of the state capital I could see the Regions building where Ideal Health NOW has a small satellite clinic in Freiderica's Pharmacy…and prayed for our patients  and  how they navigate the Memorial Day Weekend.
Which brings me to the MEMORIAL DAY CHALLENGE..
If you hadn't caught the summer bug by now, by Monday you'll have a full-on case of summer fever. Once again, barbecues and picnics will be waiting to lure you in with their potato salads, grills full of burgers and brats, desserts & sweets, chips and salsa, and coolers making ice cold beers readily available.
Which means your resolve of being on the Ideal Protein diet will be challenged!   Summer brings a casual schedule along with a casual attitude.  Our hope is that you have spent the better part of the spring focused on learning what causes Metabolic Syndrome and chronic medical issues you have experienced in the past, while also experiencing  how much better you feel.
Ideal Health NOW is NOT about  losing weight for summer and returning to unhealthy eating habits.  Make your decision NOW !  What will your attitude be towards your health?
Hopefully, this Memorial Day weekend you'll be able to show-off  your new Lifestyle changes and enjoy the time spent with family, friends, relaxing or trying a new activity.
Here are 5 Memorial Day Tips  that are sure to help you make health conscious decisions this weekend, still enjoy the festivities,  and wake-up pleased with yourself  for keeping your focus on your Health plan for the next week & summer weeks to come..
1. Grill  –   Get out there and  GRILL  beef burgers, chicken, steak,  veggies,  (try some new  ones – like a grilled portabella mushroom cap. If you enjoy sausage, try a Lean Brat like a turkey brat instead of the traditional fat-laden bratwurst.
2. Don't Drink Your Calories – Drink Water!  .*  Remember,…the Alcohol effects  is doubled up in the body when you have been on a Ketogenic diet like Ideal Protein  –  It becomes dangerous for you and others!
You cannot drink while on the Ideal Health NOW plan.
Instead…… Drink your 64 oz   or more of WATER!   Stay hydrated!
3.  Salt!  Make sure you get in at least ½ tsp of Sea Salt  – maybe more if you are outside and/or active.  If you start to feel fatigued – add 1/3  salt to water and  an extra  …POTASSIUM ( for 3 days )
4. Get up and Play! Take some comfortable shoes or change of clothes and participate in any activities taking place at the event. Get in on a volleyball game, dive in the pool or lake, play catch, or paddle the canoe,  or play   PICKLE BALL on the driveway.  (never heard of Pickle Ball –  google it! ) Anything that gets you out of the lawn chair and moving is going to help you take your mind off of food
5. Control Your Environment – Control your ATTITUDE – If you're not hosting the get-together, don't relinquish all control to those who are.
Offer to bring a side dish of salad or grilled Veggies, a main entree or even your Badminton or  Pickle Ball set.  Again, What is Pickle Ball???  Look it up!
That way, you'll introduce some healthier options at the gathering and even encourage some light activity if there wasn't going to be any.
Don't Whine!  Get an ATTITUDE grip!
The gathering of family and friends is more than just about food.  It is NOT about what you cannot have.  It is about an American holiday honoring those who sacrificed their lives for our freedom and being THANKFUL for what you get to have.
ENJOY the people you love,  Enjoy a day off, Enjoy a fun activity,  and Enjoy sharing good foods that you get to choose  ( Remember – so many in the world do not even get to have such quality food choices)
Managing your health choices & weight loss even through the Memorial Day Holiday really comes down to choices and being prepared. If you choose to eat only the unhealthy foods, sit in a lawn chair, or have a bad attitude by thinking about what you cannot have …..the repercussions are obvious mentally, physically and financially.
Dr Chandler and I hope you have a great Memorial Day weekend and resolve to keep your health goals a priority.
PS –  I have had so many requests for this video by Dr Lustig that appeared on Authority Nutrition website.  It takes 15 min to watch……. Very sobering!
The post How Sugar Messes up Your Liver and Gives You Diabetes appeared first on http://authoritynutrition.com/