Veggies can be one of the biggest challenges to eat on the Ideal Protein Diet.
Why? Veggies are a major part of the diet; shouldn't they be easy to eat? Nope! Not if you are like me and stick to the same veggies, same recipes, and same meals over and over and over again (please notice my repetition). Steamed broccoli is only good so many times in row; trust me, it is a staple in my diet. I was getting bored with my food and the diet was super hard because there was hardly any flavor and I was longing for something new. So, I started trying out new recipes with new vegetables and was pleasantly surprised! Flavor has made a comeback! Hallelujah! So here are some delightful recipes I hope you will take time to try!
Kale Pesto                                                                                           
1 bunch of Kale, washed and ribs removed
2 cloves raw garlic
¼ cup extra virgin olive oil (yep, getting that oil in there! Your gall bladder will especially thank you!)
2 tablespoons lemon juice
Pinch of salt/pepper ( I love pepper, so I always load up on the pepper)
Place all ingredients in a food processor or blender and puree until pasty and well combined, about 1 minute. You will probably have to scrape the sides down occasionally as you are blending.  As with all recipes, you can add more/less salt, pepper, or lemon juice depending on your awesome taste buds!
This is great to use as a sauce on fish or shrimp or chicken. You could also mix some spinach in there as well.
Kale Chips
Kale washed, ribs removed, and patted dry
1 tablespoon of olive oil
1 teaspoon of sea salt
Preheat oven to 350 degrees. Line a baking sheet with parchment paper.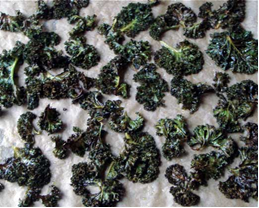 Tear Kale into bite size pieces and place in a mixing bowl. Drizzle kale with olive oil and sprinkle with sea salt. Now you are going to have to get your hands dirty by digging into the bowl and mixing the kale with your hands to make sure the kale is lightly coated with olive oil and sea salt. Bake until edges are brown, but not burnt, for about 10-15 minutes.
Once you get the hang of this recipe, you get creative by using different flavorings for your kale chips! (Personally, I love using garlic!)
Kale Smoothie (yes, you read that correctly)
1 cup of Kale
1 IDP packet (I'd recommend Peach and Mango drink mix)
½ cup of water
Ice – the amount will vary depending on how thick you want your smoothie
Place all ingredients in the blender and blend until smooth. Enjoy immediately. I like to add some Stevia to the smoothie to help mix all those flavors together nicely. This is a great way to start off your morning; if the kale taste is too strong, decrease the amount of kale used. You can also do this with spinach.
OTHER VEGGIE RECIPES …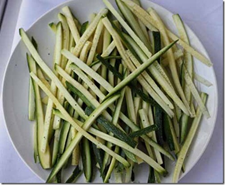 Zucchini Spaghetti (your life is about to drastically change for the better, and that is saying a lot from a girl who doesn't like zucchini)
8-9 zucchini
4 eggplants
10 oz. sundried tomatoes
5 cloves of garlic
5 tablespoons olive oil
2 tablespoons salt
2 tsp pepper
1-2 packages of Veggie Shreds
Cut zucchinis thinly as you can long-ways (you are essentially making zucchini noodles). Cut eggplant into 1-inch chunks (you can peel or not peel your eggplant; it's up to you). Bring a large pot of salted water to a boil and preheat oven to 400 degrees. Place eggplant chunks and sundried tomatoes in a plastic bowl with a lid or a large Ziploc. Drizzle with olive oil and spices (I use Italian seasonings or basil) and shake until coated. Spread eggplant and tomatoes onto an oven pan and sprinkle garlic salt, pepper, onion salt, and a small amount of crushed red pepper (the more crushed red pepper, the spicier it will be). Place in oven for 30 minutes or until eggplant is tender, browned, and cooked well.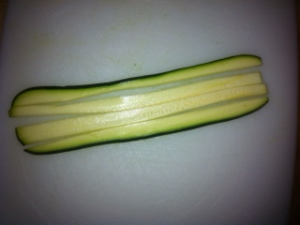 While pans are in the oven, dunk zucchini noodles into boiling water for 45 seconds (Confession: sometimes I dunk them for about 1 minute because I like my zucchini cooked more). Drain water and let zucchini noodles cool.
Pull pans out of the oven and blend up the eggplant, tomato combo in a food processor or blender with a generous amount of olive oil. Blend until pureed.
Place zucchini noodles and eggplant sauce into a bowl and stir until coated. Place in casserole dish and coat with Veggie Shreds and but back in the oven for about 20 minutes, until cheese is melted.
Then take out of the oven and ENJOY! I usually add ground beef or turkey to this recipe to get protein in. Remember, eggplant is an occasional veggie!
**Note, this dish makes A LOT of food and is time consuming to prepare, so this is a great weekend dish when you have some more time to get dinner ready. It also makes great left overs!
I slice the zucchini horizontally with a mandolin first and then slice it into "noodles"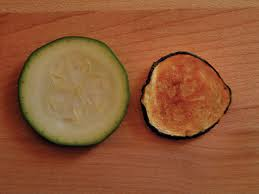 Zucchini Chips (yep, another recipe from a girl who doesn't like zucchini)
Zucchinis
1 tablespoon of olive oil
½ tablespoon of onion salt (or any other salt you desire)
Preheat oven to 250 degrees.
Slice zucchini into chips; I like to use a mandolin because it is super easy and fast and you get perfect looking zucchini chips.
Place chips in a bowl and drizzle with olive oil and sprinkle with salt. Make sure zucchini is lightly coated. Line a baking sheet with parchment paper and place chips on baking sheet. Bake for about 20-30 minutes, take out chips and flip over, and bake for another 20-30 minutes.
Vegetable Egg Frittata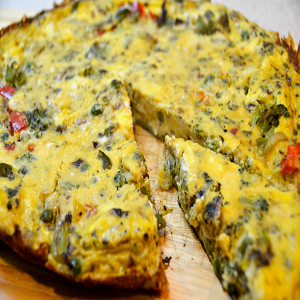 Any veggies you desire
1 tablespoon of olive oil
Preheat oven to 350 degrees.
For this recipe I used, peppers, green onions, and that's right you guessed it: KALE! Sautee veggies in frying pan with olive oil and add seasonings such as salt, pepper, and garlic powder (really you could use whatever you like). Scramble eggs in a separate bowl, and pour eggs over cooked veggies. Let the veggie egg mixture sit for about 5-7 minutes.  Place frying pan (it will fit) into the oven and let bake for 10 minutes or until the top of the egg is a light golden brown. Remove from oven, slice like a pizza and enjoy!