A question recently came in from the web- Does this diet work or will I just gain all of my weight back?
A short answer is…of course this diet will work- we have hundreds of people that can attest to it.  However the main question- will I gain my weight back is really the issue for most of us.
The answer to that question is …of course you will if….
you do not learn to eat a variety of proteins and vegetables
you do not learn how to purchase healthy food at the grocery store
you do not learn how to selectively order at a restarant
you return to eating junk carbs instead of protein and vegetables
you refuse to give up your belief that food is a reward instead of fuel for living
This week take some time to practice!
Try a new recipe- go grocery shopping and take the time to prepare a healthy meal.  See below what others are doing.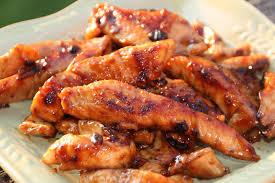 Orange Chicken Recipe
This is a recipe from one of our clients that sounded easy and delicious! I think the chicken would go great with some cauliflower rice. For the cauliflower rice, blend up a head of cauliflower in a blender or a food processor then cook for 3-4 minutes in the microwave and it makes about 4 cups of veggies depending on how big your cauliflower is. Enjoy!
1# pkg chicken tenderloins
1/4 c soy sauce
1/4 c Walden Farms orange marmalade
1 tsp garlic
pepper to taste
Olive oil
Mix the soy sauce, marmalade, garlic, and pepper together. Heat in the microwave until the marmalade can be stirred in smoothly in the soy sauce. Coat the chicken in the sauce.
Put olive oil & spray in the skillet and heat skillet very hot. Add chicken pieces and brown on both sides. Decrease heat and cook until pieces are done.
Need more recipes?