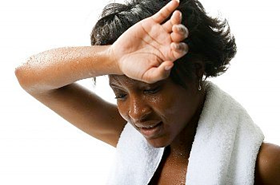 You have a choice. You can throw in the towel, or you can use it to wipe the sweat off of your face. —Gatorade
Thinking about giving up? There are many reasons why we should never take the easy way out especially during the Holidays and here are a few reasons:
Giving up will never allow you to achieve your dream.
As long as you are alive the potential to reach your dream is still out there, don't let your difficulties discourage you, use the negative energy to fuel your positive gain!
You do not want to Go Backwards and gain weight – do  you ?
Prove  something to yourself. Sure there are people around that doubt you, and may even have you doubting yourself, it's time to prove to yourself and everyone else that not only you are a dreamer, but that you are a go getter, a person who is willing to work hard to accomplish your goals!
It doesn't always feel good to say " NO" to yourself at first  –  but ' DO it " anyway!  It is okay to say " NO"  and choose during the few Days surrounding the Christmas holidays to enjoy several traditional food –  NOT THE WHOLE MONTH!
What you have done  – has been done before!   By you!  YOU have proven the Ideal Health NOW plan works when you follow the plan as written.  You have lost Fat, Inches, and Weight and some of your have been able to stop  taking so many Medications.
The exciting part of Your Ideal Protein progression when you have followed the protocol is….
An incredible reward of your hard work – a healthier body and leaner body =  the inches are coming off and you feel better in your clothes
The overcoming of different obstacles in order to achieve a goal had motivated you to overcome other obstacles in your life.
Everyone has difficulties and hard times on the road to achieving fat loss and a healthier body –  you have proven to yourself you are willing to work hard to become a better you.
You are putting yourself to a personal test >>>> You ask yourself – Am I willing to continue to work hard to get to the finish line?
You are proving you are determined to stick to the plan  through the holidays because it is in your best interest.
It is not a question of  "can you?" – – – – – –   It's   "WILL you ?"
Ask yourself > > > Am I  willing for the next 2 months to follow the  proven plan of Ideal Protein?  You will be rewarded –  8 – 10 lbs off before Christmas > BETTER HEALTH > LESS FAT > LESS MEDICATIONS.
Be proud of what you have accomplished so far.  You are way ahead of those who will be miserable during the holidays and hit the 1st of the 2018  year 10 lbs heavier.
We have 4  weeks until the Christmas Holidays.  Are you willing to follow plan and have at least 8 – 10 lbs off (women) or more (men) ?
 Is it really any more work than usual?
Working  Hard at anything  can be difficult, but don't get discouraged when you struggle. If you are consistent and follow the Ideal Health NOW plan, the things that seem hard for you now will soon become easier.
Whatever you do, just don't throw in that towel this Holiday season – – – –keep it by your side to wipe your sweat!
Work hard!
Dr. Kay Chandler
Jessica Barber
That in all respects you may prosper and be in good health, just as your soul prospers …