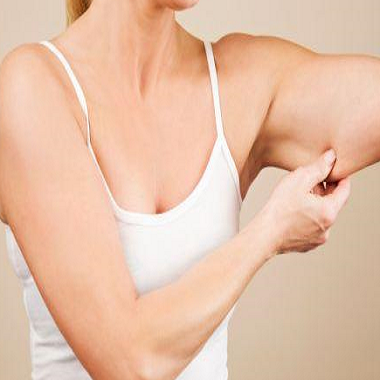 Do you 'believe you can fly?' Are you finding that you have some areas that seem more flabby now that you have lost weight?! Do you spread out your arms and literally think,  hmm, I really could fly with these arms.
Well, when you lose a significant amount of weight, unfortunately, there can be some not so pretty physical effects; it's not ugly, but maybe just not what you were expecting. That is mostly due to loose skin. Our skin is elastic but it doesn't always shrink back after being stretched out by excess fat. Thankfully, there are some steps you can take to combat the lose skin … this does not mean it will fix everything, but it can help.
First, you can start exercising. If you do some target exercises it can help build muscle and tighten up that area of your body, arms, legs, tummy, etc. You are also building muscle to help fill in those areas as well. Remember, muscle is good … it helps burn fat and gives us a nice tone to our bodies.

Mineral scrubs are thought to help tighten skin as well. The exfoliation is believed to increase circulation which helps increase blood flow which helps tighten skin. Honestly, I am not sure how accurate that is, but at least it is a good excuse to go buy some awesome sea salt scrub! ( I love to pamper myself with some good sea salt scrub!!)

Finally, collagen and gelatin will help tighten skin and I can say it honestly works. I had diastasis recti after being pregnant with Ethan (I tore my abdominal muscles) and I started using the Raspberry Mousse product recently, which has collagen, and I can already tell a difference in my skin. Collagen helps to support your skin and give it that firm structure. Gelatin helps to improve our skin elasticity. Some great Ideal Protein products to help firm and tighten your skin include: Raspberry Mousse, Blueberry Cran-Granata Drink, and Raspberry Jelly Mix. Now, you can only have them 4x per week, but they will help!
As you continue to lose weight, remember the health benefits you are receiving from maintaining a healthier lifestyle outweigh any trivial physical dislikes. The physical results are wonderful but we all have unique bodies that responds differently. Keep in mind that you are healthier and stronger and don't get caught up on the physical appearance … I know that is tough, but the key is stay on track and remember you are now healthier and there is no need to look 'perfect' according to our society's ridiculous beauty standards.
Here are a few exercises to help tighten and tone:
Arms: standard push-ups, but keep your elbow in tight close to your rib cage so they are almost touching your ribs. This will target your triceps muscles (the 'wings') and strengthen and tone the back of your arms. Do 3 sets of 15-20
Abdomen: planks are a great way to not only strengthen and tone, but to bring stability to your entire core (back, hips, and abs). Start in a push-up position, then drop down on your elbows and toes. Make sure your elbows are directly under your shoulders and your back is flat and your backside is not sticking up in the air. Think about pulling your belly button toward the back of your spine and tighten your tummy muscles. Do 3-5 sets and hold for at least 30 seconds each time.
Legs: Sumo squats help target those inner thighs. Stand with feet farther than hip width apart, toes pointing out (almost like you are doing a ballet plie). Tuck your backside under your hips, keep your chest up and squat down until your thighs are parallel to the ground. Do 3 sets of 25 squats.