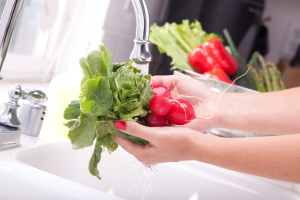 Do you meal prep or meal plan? Sometimes I do good job with meal planning/prepping and sometimes I'm not so good at it. I am starting to get better the more I do it so I though I would share my tope 4 tips for planning.
Meal Planning Tips
Crock Pot Chicken

This is a more specific meal prep ideal, but I do this all the time at the beginning of the week. I get about 4 large chicken breasts and slow cook them in the crock pot. I season them with general seasonings that go with pretty much everything – salt, pepper, olive oil, garlic powder, and onion powder. This is an easy way to have prepared chicken to throw in any type of meal – stir fry, chicken chili, salad, soup, etc.

Grocery List

A list might seem like a no brainer, but it is a simple task that will probably only take 30 minutes max (if you do below ideas as well or if you are like me and look at 50 different weekly ads). It keeps you on track at the grocery store, helps you plan and prepare, and helps you avoid those impulse buys.

Pick recipes

Picking recipes doesn't have to be complicated. You don't need to scour cookbooks or blog post for hours finding the perfect recipe. Find 2-4 recipes for your week and then you are done! You can base them on one main ingredient (chicken, broccoli, beef, etc) but do try to pick some that have some similar ingredients. That way you will use your resources and money wisely! Also, if you double the recipe you get leftovers!!

Stock up on basics

Is it time for a pantry inventory check? How many times have you started a recipe to realize you are missing an important ingredient; so irritating! Here are some good staples to keep in stock:

Olive Oil
Grapeseed Oil
Salt and Pepper
Garlic/Garlic Powder
Onions
Italian Seasoning
Canned Tomatoes
Tomato Sauce
Chicken Broth
Lemon Juice
Lime Juice
Soy Sauce
Apple Cider Vinegar
Stevia
Do you have any meal prep tips and tricks? What are your favorite ways to prepare yourself to stay on track with healthy eating for the week?