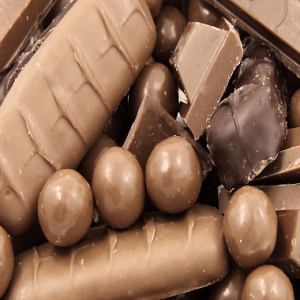 What do you do when your food cravings spiral out of control this week and you feel the pressing need to satiate your desire for SWEETS – CANDY?
At special times of year most people end up deviating from their diet plan, and regretting it afterwards!
With a little bit of knowledge with strategies, tools, and will power,  you can control these cravings and Boo them away the second they surface.
There are important chemicals involved with self-control of cravings….. These are Dopamine, Serotonin, GABA and Endorphins.
Dopamine

is a feel good chemical.

Serotonin

is the happy, anti-worry, flexibility chemical.

GABA

is the jump starter to calm or relax the brain.
And the

Endorphins

act on the body in many ways controlling everything from breathing to judgment and emotions.
Now listen to this secret, when these chemicals in the brain are balanced you can be:
Focused
Goal-oriented
Have control over your cravings.
Now that you have a little better knowledge of the system behind cravings, let's get into the strategies and tools to assist you with the will-power to BALANCE the chemicals of the brain and CONTROL your cravings
Protein Power
Including a 4th Ideal Protein food starting today will not only control your daily calorie count, but will also control your blood sugar levels and stimulate the production of an appetite suppressant substance known as cholecystokinin (CKK). Both these effects serve to control food cravings, and leave you feeling fuller for longer periods of time. Make it a point to have and extra Ideal Protein this week along with striving towards the 8 oz of your animal  or seafood protein at dinner.
Check the Clock
Did you know that if your body goes without food for more than five hours, it will stimulate intense food cravings due to a drop in the blood sugar levels?
To counter this source of food cravings, you simply need to check the clock and eat your Ideal Protein & veggies  & if needed  –  add in a lettuce salad as a snack, so that your blood sugar level does not fluctuate
Eat your Veggies
The carbohydrates, fiber, and nutrients from your veggies reduce the cravings for carbs.  Get a measuring cup and pack in your required 4 cups of vegetables a day to help satiate your body.
Drink Water
What you perceive to be food cravings may actually be your body's way of signaling that it is dehydrated! Dehydration for some people can translate into a craving for salty foods. The solution for this is quite simple: drink your 64 oz of water! Since it is the cooler weather of fall and you are drinking more coffee –  Add more water to stay hydrated!
Chew Gum
Chewing gum could help stave off food cravings!  There is a new GUM that is aspartame free called  PUR  which can be found at Whole Foods
Salt
It's quite possible that your "SWEET cravings" are actually the body's way of signaling to you that your body needs salt.
Brush Your Teeth
Wondering how to stop food cravings in an eccentric manner? Well, are you eyeing that rich peanut butter and chocolate Reeses' cup placed in front of you? Tempted to dip your hands into that bag of Halloween Candy?
Stop right there! Take a trip to the bathroom, brush your teeth with mint toothpaste (or any other flavor of your choice), swish with a bit of minty mouthwash, and floss your teeth. With your mouth feeling so fresh and clean, there's no way that you will want to ruin this fresh feeling with strongly flavored foods.
We all make poor choices against our better judgment. It's kind of what makes us human, but you also have the option to make a better choice!
Sure, the candy bar tastes good, but you know you'll feel awful after eating it.
So, while the decision ultimately rests on your plate, you might find it helpful to understand that there could be a whole host of factors is actively influencing you.

*These aren't excuses, and they don't remove our  responsibility, but they give you knowledge and then using our strategies from Ideal Health NOW – we can help  you can ACT AGAINST YOUR CRAVINGS to receive optimal results.
Dr Chandler and I hope by understanding influences that can often lead us towards bad decisions about food against our better judgment, and use the knowledge and strategies you are learning  –  along with the Ideal Protein as a tool for greater health and then the will power to use the tools to Act Against the Cravings  …. and Boo them away the second they surface.
You can tip the scales in your favor